I KNEW I'd forgotten a couple of books when I did my big catch up list, but hey - these deserve their own entry anyway. (And deserve to be read whether or not you consider yourself a feminist per se.)
Book # 29 - Full Frontal Feminism: A Young Woman's Guide to Why Feminism Matters by Jessica Valenti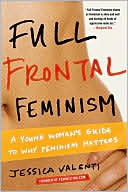 Here's the publishers description:
Feminism isn't dead. It just isn't very cool anymore. Enter Full Frontal Feminism, a book that embodies the forward-looking messages that author Jessica Valenti propagates on her popular website, Feministing.com.

Covering a range of topics, including pop culture, health, reproductive rights, violence, education, relationships, and more, Valenti provides young women a primer on why feminism matters.

Valenti knows better than anyone that young women need a smart-ass book that deals with real-life issues in a style they can relate to. No rehashing the same old issues. No belaboring where today's young women have gone wrong. Feminism should be something young women feel comfortable with, something they can own. Full Frontal Feminism is sending out the message to readers — yeah, you're feminists, and that's actually pretty frigging cool.
and
Book # 30 - It's A Jungle Out There: The Feminist Survival Guide to Politically Inhospitable Environments by Amanda Marcotte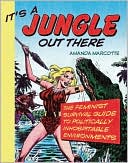 And the publisher's description:
Ms. magazine, Spring 2008
For any feminist ever at a loss for words Marcotte offers no nonsense advice on handling sexism with aplomb and deadly humor, from confronting the pay gap to defusing conservative relatives.

Product Description
For all of you humming "I Will Survive" while watching the political debacles gracing the evening news, when getting an earful from your Limbaugh-loving brother-in-law, or as you're ducking into the bathroom to avoid the date espousing the wisdom of those Mars versus Venus books, this book is for you.

It's a Jungle Out There gives all you smart, independent women out there the funny pranks, witty comebacks, and stalwart sources of strength you need in these trying times. With her tongue firmly in cheek and her middle finger stuck straight up in the air, Amanda Marcotte (of Pandagon.net) takes you on a tour through the perils that await any feminist who must navigate day-to-day life in the U.S., from the abstinence-only classrooms to the glass-ceiling of the office world.

Drawing on her personal experiences of dealing with anti-feminists—from her years of blogging about feminism and living in the woman-unfriendly state of Texas—Marcotte brings her wit and distinct lack of patience to the topic of surviving while feminist. She doles out priceless advice along the way on how not only survive but also thrive, and even how to carve out a space for your feminist self in these oft-times hostile environments.
In re. both books, I thought they were excellent, thoughtful and damn funny to boot (which is rather refreshing in a book on a "political" subject). I think gals and guys whether they identify as feminist or not will find that these books provoke thought and maybe even raise consciousness and lead to good debate n'stuff and I cannot recommend them enough. I ESPECIALLY recommend them to all the people out there who've said "I'm not a feminist, but ..." to me over the years! :-)
Feel free to blast away, but I'd really recommend reading before blasting if at all possible.
;-)